Marilyn Crispell, Paul Motian and Mark Helia
Assim como a veterana vanguardista, pianista e compositora Carla Bley, a pianista Marilyn Crispell, descoberta por Anthony Braxton no final dos anos 70, é, hoje, uma das mulheres mais respeitadas do Jazz Contemporâneo nos circuitos dos EUA e Europa. Marilyn estudou piano na conceituada New England Conservatory of Music e numa das grandes escolas voltadas para a música de vanguarda: o extinto Creative Music Studio de Karl Berger, onde ela iniciou-se como pianista de Free Jazz, sendo convidada por Braxton a integrar sua Creative Orchestra Music em 1977 (e, logo após, seu grande quarteto já na década de 80). Ela foi membro do Anthony Braxton Quartet por dez anos e também já participou de várias bandas e grupos como Reggie Workman Ensemble, Barry Guy New Orchestra, London Jazz Composers Orchestra, Henry Grimes Trio, Quartet Noir (com Urs Leimgruber, Fritz Hauser e Joelle Leandre) e Anders Jormin's Bortom Quintet.
Marilyn Crispell conheçeu o jazz através dos discos de Cecil Taylor e dos discos vanguardistas de John Coltrane, desenvolvendo, desde o início, um gosto pelo Jazz mais "free" e mais moderno. Sua técnica é fruto de suas observações ao estilo de Cecil Taylor, mas ela passou a imprimir um estilo próprio, introspectivo e menos percursivo do que o pesado dedilhado de Cecil, além de aprender, com Braxton, muitas noções de espaço, silêncio e como interagir livremente em grupo tentando ouvir cada membro presente. Ademais, além da sua faceta como improvisadora, Crispell também já mostrou muita sensibilidade em interpretar obras escritas por compositores contemporâneos como Robert Cogan, Pozzi Escot, John Cage, Pauline Oliveros, Manfred Nehaus e Anthony Davis, incluindo a sua ópera "X" que foi apresentada quatro vezes com a New York City Opera.
Suas primeiras gravações como líder foram editadas pelo selo Leo Records ( do trompetista Wadada Leo Smith): trata-se do disco Santueiro, de 1993, com um quarteto constituído pelo violinista Mark Feldman, o baterista Gerry Hemingway e o pianista Hank Roberts, além do disco Stellar Pulsations onde ela interpreta a escrita do compositor de Música Erudita Contemporânea Robert Cogan; outro registro de destaque, lançado pelo selo Leo, é o disco After Appleby de 2000, no qual Marilyn está acompanhada pelo saxofonista Evan Parker, o baterista Barry Guy e o contrabaixista Paul Lyton. Ela também lançou interessantes discos pela grande gravadora alemã ECM: em 1997 ela lançou o disco "Nothing Ever Was, Anyway - The Music of Annette Peacock" com seu trio constituído pelo contrabaixista Gary Peacock e pelo baterista Paul Motian - neste disco ela interpreta obras de Annette Peacock, esposa do contrabaixista; os outros discos pelo selo ECM foram o Amaryllis de 2001 (que também foi gravado com o trio), In Winds, In Light de 2004 e o mais recente Vignettes de 2008, um disco totalmente de piano solo. Além desses dois grandes selos, Marilyn Crispell já foi editada pelos selos Les Disques Victo, DaCapo, Music and Arts, Intakt e Black Saint.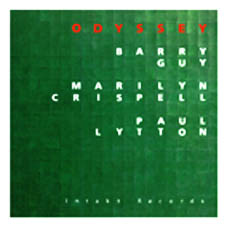 Ao lado, um dos discos mais interessantes no moderno Free Jazz do século XXI, gravado em 1999 e lançado em 2001: trata-se de um disco de composições de Marilyn Crispell, Paul Lyton e Barry Guy. Com uma mesclagem de lirismo e intensidade, o disco foi elaborado de forma que, na maioria das composições, fica difícil para o ouvinte distinguir as partes compostas das partes improvisadas. Clique na imagem.
Odyssey - Guy/ Crispell/ Lyton 2001

Barry Guy - Bass/Composer
Marilyn Crispell - piano
PianoPaul Lytton - Percussion/Drums

Intakt CD 070