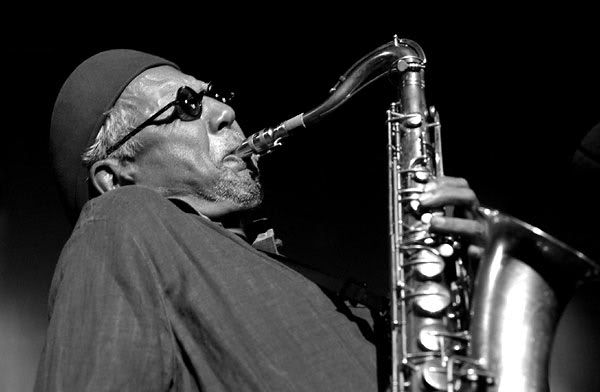 Nesta compilação de vídeos, trago-vos o quarteto do saxtenorista e flautista Charles Lloyd. Após tocar em bandas de blues com B.B. King e Howlin' Wolf, após colaborar com os bandleaders Gerald Wilson e Chico Hamilton, após ter tocado no sexteto de Cannonball Adderley no início dos anos 60, Charles Lloyd fundou, entre os anos de 1965 e 1966, um quarteto com alguns dos maiores jovens talento da época: o pianista Keith Jarrett, o baterista Jack DeJohnette e o contrabaixista Cecil McBee (depois substituído por Ron McClure). Esse quarteto, uma das referências do post-bop, foi um dos poucos grupos, ao lado do quarteto de Ornette Coleman, a ter a capacidade de compartilhar aquele cenário com tanta popularidade na mídia quanto já tinha o poderoso quinteto de Miles Davis, fundado em 1964. Ornette Coleman já invetara seu "free jazz". Miles Davis já estava definitivamente consagrado e iria começar seus flertes com a psicodelia do rock alguns anos adiante. Charles Lloyd, no entanto, começava sua carreira solo nessa mesma época e o fez de forma esplendorosa: o disco Forest Flower, por exemplo, gravado ao vivo em 1966 no Festival de Monterey, foi o único disco de jazz, depois do disco Time Out de Dave Brubeck (1959), a chegar na marca de 1 mihão de cópias vendidas em seus primeiros anos de lançamento -- isso porque Lloyd, além de revelar um som poderoso com um quarteto que esbanjava talento, ele também aderira ao movimento hippie Flower Power, conseguindo propagar sua música além dos redutos jazzísticos e do público de jazz propriamente dito.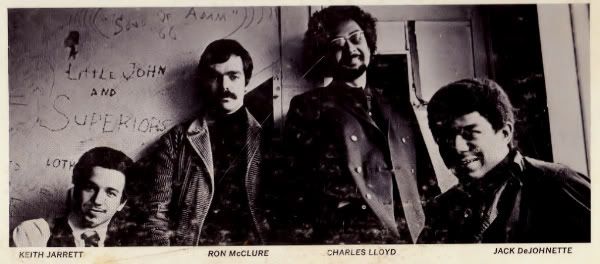 Apesar do grande sucesso do Charles Lloyd Quartet, a banda durou três anos. Além de Forest Flower (1966) o conjunto de gravações de Charles Lloyd com esse quarteto incluiu Dream Weaver (1966), Charles Lloyd in Europe (1966), Love-In (1967), Journey Within (1968) e Soundtrack (1969). Talvez, o motivo para o grupo ter acabado tão rápido foram as propostas irrecusáveis que os sidemans de Lloyd passaram a receber após o sucesso da banda: inclusive, o trompetista Miles Davis -- invejoso e visionário, como sempre -- convidaria esses mesmos sidemans -- o pianista Keith Jarrett, o baterista Jack Dejohnette e o contrabaixista Cecil McBee -- para partiparem dos primeiros shows e gravações no estilo Fusion; e também o próprio pianista Keith Jarrett, que já passara brevemente pelo The Jazz Messengers do baterista Art Blakey antes de tocar com Lloyd, iria receber uma proposta do produtor Manfred Eicher para gravar na sua recém fundada ECM, pregadora de uma nova proposta sonora. Já Lloyd passaria a tocar com a banda de rock'n'roll Beach Boys, lançando poucos discos solos apartir de 1969 e distanciando-se aos poucos do jazz até aquietar-se num hiato de quatro anos, entre 1974 e 1978.
Nos anos 80 e 90, Lloyd voltaria a tocar na mesma configuração de quarteto, sobretudo após ter a colaboração e amizade do pianista francês Michel Petrucciani. A partir de 1989, Lloyd passou a ter uma sequência regular de discos lançados pela ECM, com sucessos de crítica que reafirmaram sua importância como um dos músicos mais fantásticos do post-bop. Dentre os discos dessas gravações sequenciais, há alguns onde Lloyd explora os aspectos das baladas com duo ou trio, mas a maioria foram gravados com quarteto e, apesar da sua idade avançada, esses álbuns ainda mostram um saxofonista de muitas idéias e improvisações vigorosas: dentre os sidemans que participaram de suas gravações e shows nesse formato estão os pianistas Bobo Stenson, Gery Allen, Brad Mehldau e Jason Moran, o guitarrista John Abercombrie, os contrabaixistas Marc Johnson, Bob Hust, Anders Jormin e Larry Grenadier, os baterista Billy Hart, Billy Higgins e Eric Harland, dentre outros músicos importantes do jazz contemporâneo. Apesar de não ter mudado muito seu estilo, Charles Lloyd atingiu um novo ápice em 2008 com o album Rabo de Nube (com Jason Moran, Reuben Rogers e Eric Harland), um dos lançamentos mais aclamados pela crítica e público neste ano. Clique nas imagens acima para baixar o disco Forest Flower, ouvir um programa especialmente dedicado à Lloyd no Uol That Jazz e acessar mais informações sobre Charles Lloyd!!! Abaixo, uma compilação dos melhores vídeos com o Charles Lloyd Quartet da década de 60 e com suas supostas variações. Alguns dos vídeos mostram uma atuação um tanto descontraída com Charles Lloyd no chacoalho, Keith Jarrett no sax soprano...Enfim, assistam!!! Para assistir aos vídeos basta clicar em
#
.
Charles Lloyd Quartet with Jarrett, McClure

&

DeJohnette (1968)
#1
Charles Lloyd Quartet with Jarrett, McClure

&

DeJohnette (1968)
#2
Charles Lloyd Quartet with Jarrett, McBee

&

DeJohnette (1968

)
#1
Charles Lloyd Quartet with Jarrett, McBee

&

DeJohnette(1968)
#2
Charles Lloyd Quartet with Jarrett, McBee

&

DeJohnette
#3
Charles Lloyd Quartet with Petrucciani, McBee

&

DeJohnette
#1
Charles Lloyd Quartet with Abercombrie, Hart

&

Johnson (2000)
#1
Charles LLoyd Quartet with Allen, Hurst & Harland (2005)
#1
&
#2